LONG LIVE MATERNITY JEANS
Everything about maternity jeans is awesome. They're the right color. They fit good. They feel comfortable when sitting down. They feel like pajamas. There's no weird waist gap in the back because the waist is elastic. They don't fall down and need to be tugged back up. Maternity pants have a wide, sturdy, flat band of elastic to hold them up.
In the Friends serial, Joey Tribbiani had a genius little idea when he wore Phoebe's maternity jeans for Thanksgiving dinner.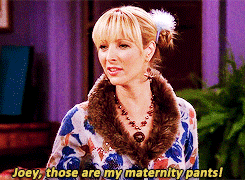 The best thing about maternity jeans is they have an elastic, ever-stretching waist.